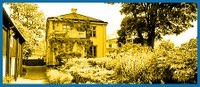 The Dag Hammarskjöld Foundation
For its fourth and - if things go as planned - final meeting, the Reflection Group is kindly hosted by the Dag Hammarskjöld Foundation in Uppsala, Sweden. While there is a lot do for the group on the three days from the 16th-18th of September, the group will also listen to this year's "Dag Hammarskjöld Lecture" delivered by Jan Eliasson, former Minister for Foreign Affairs of Sweden and former President of the UN General Assembly.
Already on Thursday, September 15th, 19.15h, members of the group will join for public panel debate on "20 Years After Rio – Global Development Perspectives" at Uppsala University Building, Hall IX. Roberto Bissio (Uruguay), Yoke Ling Chee (Malaysia), Jorge Ishizawa (Peru), and Victoria Tauli-Corpuz (Philippines) will discuss under the moderation of Henning Melber.